Numbers Are Dropping Drastically. Is the NFT Bubble Finally Bursting?
NFTs are losing value, interest is declining worldwide. NFTs that were worth millions of dollars last year are once again affordable to mere mortals. Is what many critics have predicted coming to pass? Does this "crisis" also hold something good for the young community?
If you type in "NFT" on Google Trends, you can see how much the term has been searched for over time. In January 2022, it was searched for extremely frequently; in the meantime, the trend has dropped again and continues to fall.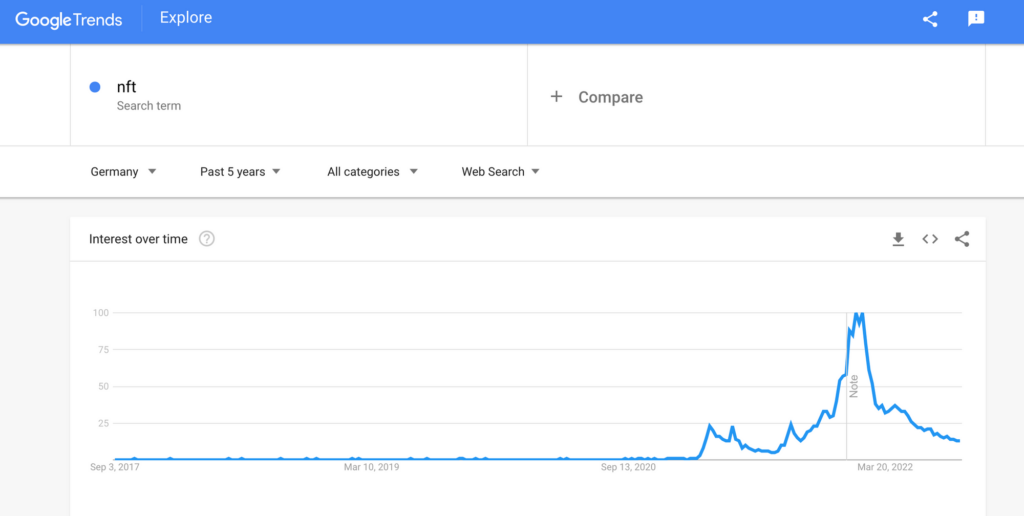 The March 2021 NFT of co-founder Jack Dorseys first tweet went over the counter for $2.9 million. At auction, the owner of the NFT received no bids over $14,000.
According to the Wall Street Journal, the supply is much higher than the demand of NFTs – there are about five NFTs for every buyer.
The triumph of NFTs did not produce only winners anyway. Scammers and hackers sought to take advantage of the market, and many of the gullible fooled: from knock-offs to fake bids and insider trading, where there's money, there's scams. Find out how to protect yourself here.
So the case doesn't necessarily have to be all bad judgment. Sach Chandaria, Speaker at NFT NYC 2022 spoke of that a lot of crap can now be gotten rid of. 2022 would be much more about creativity.
To the individual buyers of NFTs, the descending trend may hurt. But globally, it could be seen as a natural cleansing and help eliminate the "bad" crypto projects. Those that remain after this crash may be the ones that really stick around for the long haul.
At GamesCoin, we look at the descending trend with more curiosity than concern. Because we are building a gaming hub, linked to our in-house blockchain, the GamesChain. The focus here is on digital assets – a project that will outlast today's NFT trends.